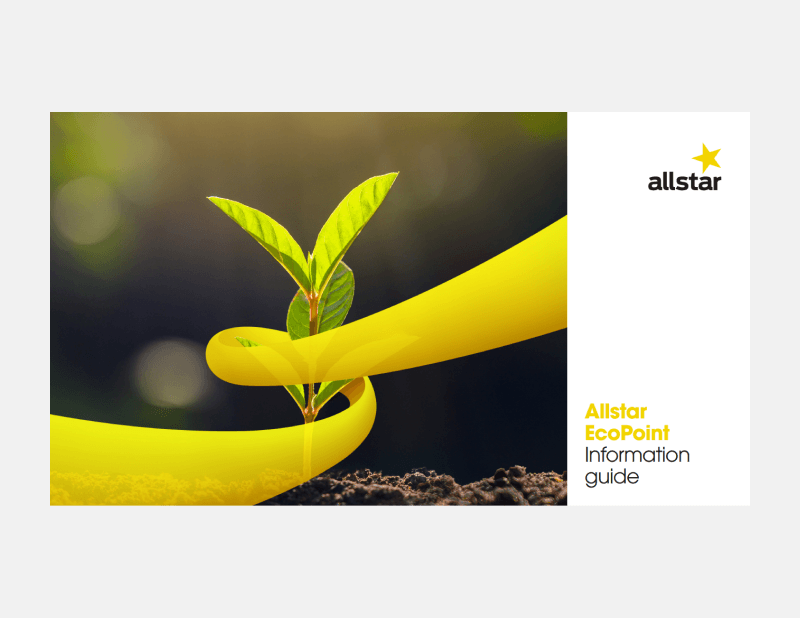 Allstar EcoPoint Information Guide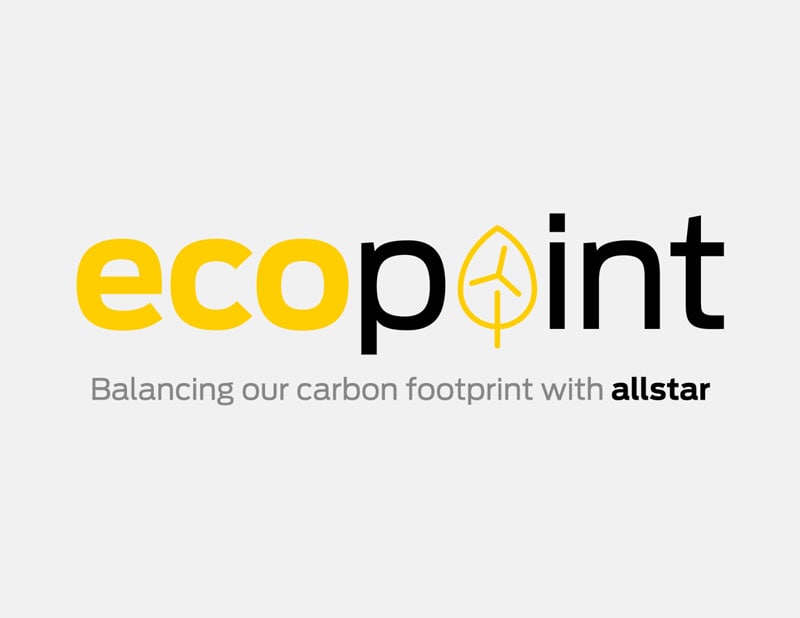 EcoPoint Logo and Guidelines
EcoPoint Annual Impact Certificate
If required, we issue an annual impact certificate for EcoPoint members at the beginning of each year (for the previous year). Your annual certificate includes the total CO2 emissions mitigated over the past year. Promote the impact you're making by featuring the certificate on your website or displaying it in your office. Need to request an annual certificate?

Contact us:
New Customers: 0345 266 5101
Existing Customers: 0370 419 5165
Email: fast.admin@allstarcard.co.uk
EcoPoint is a carbon credits programme. It works by supporting a portfolio of projects around the world that help reduce the impact of CO2 emissions – including forest creation, forest protection, renewable energy, industrial process improvement and transportation efficiency.
Forests provide multiple benefits to society, including CO

2

capture, habitat for biodiversity, flood mitigation, cleaner rivers and air, employment creation and protection for old growth forest through sustainable timber production.

Renewables, for example wind, solar or hydro power, prevent CO

2

emissions, and significantly improve air quality in host countries by replacing the need for coal-fired electricity generation.

Industrial process improvement projects support the investment in new or alternative manufacturing, low emission modes of transport, or other industrial processes with the aim to reduce greenhouse gas emissions. These projects are crucial to long-term emission mitigation strategies for our supply chain and manufacturing industries.

Transportation efficiency projects help improve supply chains, shipping, and broader transportation industries. These projects utilise the most efficient aspects of truck and rail modes; freight trains carry cargo over long distances and trucks move the loads between rail terminals and the cargo's origin or destination to reduce the CO2 impact.
EcoPoint is not specific to each cardholder, EcoPoint is a membership programme where all cardholders make equal contributions. Total cardholder volumes are used each month to calculate the investment in the rolling programme of EcoPoint projects. Projects are supported based on 1.5 carbon credits per card per year. Each credit represents 1 tonne of CO2 through capture by new forests or emissions avoided by:
Preventing deforestation

Replacing fossil fuel burning with renewable energy

Landfill gas capture

Industrial process improvements

Transport efficiency improvements
Visit our How it Works page to learn more.
The EcoPoint programme has already helped reduce over 2 million metric tonnes of carbon to date by investing in certified carbon projects, which is equivalent to the emissions from 430,938 passenger vehicles driven for one year.
EcoPoint is administered through PDI Sustainability Solutions. As a leader in the environmental industry, PDI Sustainability Solutions provide Environmental Social and Governance (ESG) strategy and patented sustainability solutions to businesses looking to reduce their carbon, plastic, water and energy footprints.
Each project shall follow internationally recognised quality assurance standards: The Gold Standard, Verra (VCS), American Carbon Registry, Climate Action Reserve, CSA Group Registries, Plan Vivo, and the United Nations CDM. Today, PDI Sustainability Solutions annually mitigates emissions on nearly 4 billion litres of fuel.